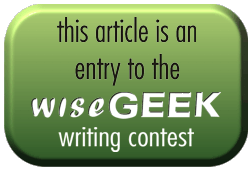 Ken Jennings went from software engineer to unlikely television star and nerd folk icon because of one rule change on the game show Jeopardy! Instead of limiting winning contestants to a maximum of five consecutive games, the show changed the rule in September 2003 to allow contestants to play as long as they continued to win. Kenneth Wayne Jennings III was born May 23, 1974 in Edmonds, Washington. He was interested in trivia as a child, watching Jeopardy! and, according to his mother, collected information of all sorts at a rapid speed. He competed on the Quiz Bowl Team at Brigham Young University for 3 ½ years. He graduated from BYU in 2000 with a double-major in English and computer science.
Ken Jennings' streak on Jeopardy! began June 2, 2004, and ended November 30, 2004. Nancy Zerg was the opponent who brought his tenure to an end, and it all came down to the Final Jeopardy clue, which was "Most of this firm's 70,000 seasonal white-collar employees work only 4 months a year." Zerg had the correct answer – "What is H&R Block?" Jennings' incorrect answer was "What is FedEx?"
Jennings broke almost every game show record on Jeopardy!, including most consecutive appearances on a syndicated game show at 75 episodes (74 wins, 1 loss), highest total winnings on Jeopardy! in non-tournament play - $2,500,700, highest total winnings in one game of Jeopardy! - $75,000.
After winning big on Jeopardy!, Ken has decided he likes being his own boss – he has not returned to his day job. He continues to write and edit questions for the National Academic Quiz Tournaments, writes a regular column for trivia magazine "mental_floss," and has co-invented two trivia games.
His product endorsements include FedEx, Cingular, Microsoft Encarta, Allstate and H&R Block. In an interesting twist, H&R Block offered Jennings free financial services for life.
Jennings wrote "Brainiac, Adventures in the Curious, Competitive, Compulsive World of Trivia Buffs," which was published in 2006. Not only does he recount many of his Jeopardy! experiences, but he shows us a bit of the history of trivia, as well. For those who consider themselves trivia experts, Jennings includes trivia questions throughout the book for a good challenge.
Now blogging for his fans, his self-deprecating style makes his observations even more interesting. Very eclectic and entertaining writing, and still plenty of trivia.
Ken is married to Mindy, and they have two children, Dylan and Caitlin.
submitted by S. Golden Buschardt