How Can We Improve My Pollutant Environment?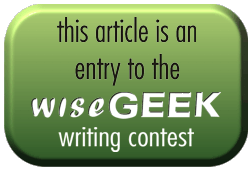 In around my live, i have seen so many problem about the envirnoment and some people are bearing the pollution. In fact, our life so very not clean almost every where.I am student and i go to school everyday by bicycle. everyday i always hear so a lot of sounds from the traffic in my city , it make my ear became heavy to hear. In adition, the traffic have a lot of bad smoke, that have alredy attack my nose. I felt very bored when i got out, i saw many terrible bridgles from its pollution, it had terrible smell that made me so many trouble when i went through it- i can not breath normally. So, what can i do to improve the envirnoment?,although i am trying to do some thing but thare are some people not concentrated that, i had seen they leave so much waste.In my opinion, if we do not try to improve that now, human will be publish by the natural...
This submission was not accepted into the wiseGEEK Writing Contest because it does not meet the 400 word minimum requirement.