Shopping Guide for Slow Cookers
The slow cooker just might be the king of all set-and-forget kitchen technology. Just throw some ingredients in the pot, set the temperature, and go about your day. Your roast/chicken/chili/stew will be waiting for you later.
As simple as they may seem, today's slow cookers boast a range of prices and features. Not only that, but some do a much better job preparing food than others.
Life is too short to eat bad grub, so we put our testers to work in the BestReviews kitchen.
Our mission: to evaluate five of the market's most popular slow cookers and judge their worth using our uncompromising test rig and one very delicious pot roast recipe.
How We Tested
In the BestReviews test kitchen, we put our five select slow cookers through a 12-hour test regimen.
Each unit was loaded with the ingredients for a pot roast recipe. As the meat cooked, we assessed four performance categories: temperature, finished dish, keep warm function, and mobility.
Temperature accuracy and constancy
Slow cookers prepare foods by "braising." Braising is the slow, low-temp, moist method of applying heat in order to break down tough meat fibers and weaken vegetable cell structures. The ideal result: moist meat and soft vegetables.
A slow cooker's temperature shouldn't rise above approximately 180 degrees Fahrenheit, else the outside layer of meat will overcook to the point of stringy, tasteless dryness and the inner portion will not have cooked long enough to attain its ideal creamy softness.
In the BestReviews lab, we obtained temperature readings at the following intervals: one hour, two hours, four hours, six hours, and nine hours from the start. We noted the pace at which each product heated up and at what temperature it lingered ("constancy") during the cooking portion of the test.
Finished Dish: Taste and Appearance
At the conclusion of the test period, we checked the meat and other ingredients for the desired "fork tender" quality.
Each cut of beef was considered done at an internal temperature between 155 and 170 degrees F. Where different parts of the cut registered at different temps, we tested for "doneness" by pulling apart meat fibers with a fork.
We assessed the appearance of each pot roast by looking at the color of the beef, outside and in, and the condition of the accompanying ingredients. Perfectly braised beef is dark on the outside and pink on the inside.
The taste of each finished dish was rated based on "mouthfeel," texture, and whether the dish presented a pleasing combination of flavors.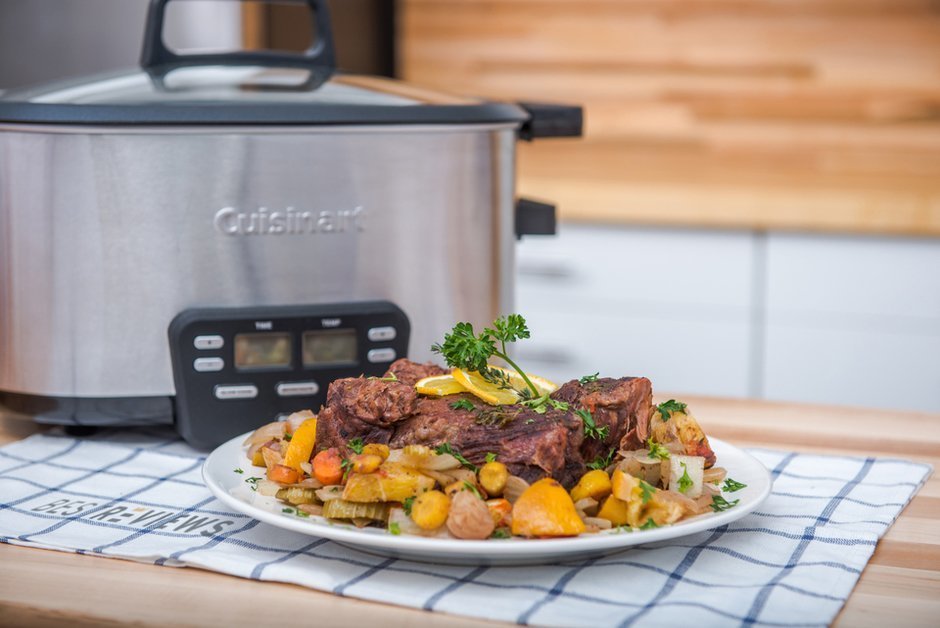 "Keep Warm" Function
A slow cooker must be able to keep finished food warm without overcooking it. The ideal temperature range for holding hot foods is between 135 and 155 degrees Fahrenheit.
We tested each unit's temperature at the one- and two-hour mark after the machine switched (automatically or manually) to "Keep Warm" to see if it adhered to our ideal.
Other Features
We also considered other features and functions. For example, some models include the ability to brown or sautée food before slow cooking. We tested this feature on both the West Bend and our "Best of the Best" pick, the Cuisinart. We found the Cuisinart to brown food excellently, while the West Bend was only mediocre.
Mobility
Once a dish is prepared in a slow cooker, the unit is often moved to a remote location for serving, such as a table or buffet. We tested each unit for handle sturdiness, housing temperature, lid integrity, and whether liquids were prone to leak from the insert when moved.
Products in depth
Cuisinart Cook Central 3-in-1 Multi-Cooker
The Good: Good performance and easy mobility. Diverse programming features and cool housing/handles. Medium-size counter footprint.
The Bad: Expensive. Might be too large for smaller kitchens.
Bottom Line: Though pricier than its competitors, the quality of workmanship and performance are worth the price. Three functions — saute/brown, steam, and slow cook — make it surprisingly versatile.
The Cuisinart Cook Central 3-in-1 passed our temperature tests with flying colors. Programmed for nine hours of slow cooking, our pot roast warmed gently in the unit, attaining an ideal average temperature of 175 degrees F in about three hours.
We set the Cuisinart to 400 degrees for searing, and it maintained a reading of 398 degrees — well within the acceptable margin of error for our infrared measuring device. After about 15 minutes at this setting, the roast achieved a beautiful dark golden crust.
The Keep Warm function automatically switched on at the conclusion of cooking time, registering a 152-degree temperature (very safe) at the two-hour point.
The Cuisinart Cook Central was one of the most feature-rich models we tested. Among its qualities:
Non-stick, aluminum insert
Steam rack
Well-fitted glass lid with comfortable, cool handle
Dishwasher safe
Can be programmed up to 24 hours in advance
Simple, easy-to-navigate control panel
Backlit LCD display
Clear instructions
Recipe booklet
Saute/brown button
We're especially impressed by the Cuisinart's saute/brown feature. Any cut of meat could be browned on the stove top first, but the Cuisinart eliminates this inconvenience with the touch of a button. In fact, we're confident that this feature was the prime reason why the Cuisinart meal scored first place on our "Finished Dish" test. The meat was appetizingly succulent, and the vegetables were perfectly cooked and colorful.
In terms of counter space, the 16-pound, six-quart Cuisinart Cook Central doesn't take up as much room as some others we tested. The sleek, brushed stainless steel exterior with black trim would look great with any kitchen décor. We think that's a good thing, because once you see how useful this product is, you'll probably want to keep it on hand at all times.
During the course of our consumer research, we found that owners are just as impressed by this product as we are. People love the Cuisinart for its versatility as a one-pot meal prep source, often citing the benefits of its browning feature and cool, sturdy plastic handles. They tend to agree that, although the $110 Cuisinart is pricey, it is well worth it.
Hamilton Beach Set 'n Forget 6-Quart Oval Slow Cooker
The Good: Feature-rich: programmable time and temperature, probe thermometer attachment, clear glass rubber gasket lid with clips atop a removable crock, and automatic Keep Warm mode.
The Bad: In temperature testing, high and low settings were virtually the same. Keep Warm temperature is too hot. The gasket lid is difficult to seat, and the crock insert and housing can become untouchably warm during operation. Size may eat up counter space in smaller kitchens.
Bottom Line: Food quality may suffer due to over-cooking. Use of the probe could mitigate the problem by keeping the user aware of internal food temperatures.
When programmed on low for nine hours, the Hamilton Beach slowly heated to temperature, reaching an active low boil at 190 degrees Fahrenheit two hours before finish time. Upon automatic switch to Keep Warm mode, the temperature lingered at an average of 190 degrees for two hours, overcooking the contents.
As a result, the vegetables retained their color and some flavor, but they fell apart. The meat was soft but tasteless.
Note: In Probe mode, the Hamilton Beach immediately switched to Keep Warm when the internal temperature of the meat contents reached our chosen setting. But from Probe to Keep Warm, the temperature registered at 180 degrees, which was far too hot.
We weren't happy with how hot the exterior of the Hamilton Beach became during use. And obviously, we weren't happy with our dinner results, either. But the Hamilton Beach does possess some redeeming qualities:
Easy-to-navigate control panel (Program, Temperature Probe, and Manual modes)
An accompanying booklet with clear instructions
Stainless unit with sleek oval shape
Glazed crockery insert for even heat distribution
Dishwasher safe crock and lid
Auto-switch to Keep Warm mode
Clear glass rubber gasket lid with clips for no-spill mobility
Capacity to cook for 6-8 people
Our consumer research revealed extremes of satisfaction and dissatisfaction with very little in between. On the positive side, people like this slow cooker's generous size and ease of programming. On the negative side, owners cite concerns about operation and quality. The overcooking of food is one such concern.
We do note that unhappy consumers who have contacted Hamilton Beach for redress have generally been satisfied with their customer service.
At a cost of $49, this mid-priced slow cooker offers a range of useful programmable features, many of which are not included by direct competitors. The stainless and black trim is certainly attractive, and the unit is easy to care for. While wider than many brands, its oval shape makes it possible to position the unit farther back on the counter.
Consumers report that the Hamilton Beach can turn out succulent whole chickens, roasts, stews, and soups. While we did not experience such culinary success during our testing, we acknowledge that it is possible for the product to cook food adequately.
Crock Pot Original Slow Cooker 6-Quart Programmable Cook & Carry
The Good: Digital programmable controls for time and temperature include countdown settings from 30 minutes to 20 hours. Unit shifts to Keep Warm automatically. Large handles make it easy to carry. Clips secure the lid to prevent spills. Removable ceramic crock and glass lid are dishwasher safe. Excellent flavor results in kitchen tests.
The Bad: Keep Warm factory setting is too warm and may continue to cook food. Lid clips are awkward when not fastened to unit.
Bottom Line: This cooker has digital controls but few other frills, yet its final results are better than the similarly priced Hamilton Beach, and it can feed as many as seven people. This company has been around for 35 years and knows its business.
Our pot roast recipe fared well when set to cook in the Crock Pot Original on Low for nine hours. The insert heated slowly and evenly, reaching a stable cooking temperature at the six-hour mark. At nine hours, the unit automatically switched to Keep Warm mode, registering a temperature of 170 degrees at the two-hour point. This temp will keep food wholesome, but it is higher than the recommended range of 135 - 155 degrees, and as such, it may continue to cook the contents for longer than desired.
Even so, the final dish scored #2 in taste and appearance. The beef was creamy, soft, and flavorful; the veggies were colorful and firm, yet thoroughly cooked.
The Crock Pot slow cooker had excellent test results overall, but the "Warm" setting was slightly too warm.
The Crock Pot Original's desirable features include the following:
Sturdy (unit weighs eight pounds without contents)
Generously sized handles that stay cool to the touch
A secure gasket lid that keeps liquids inside the crock
Handy clips to keep the lid in place
Brushed stainless steel housing with black trim
Programmable cooking time
An attractive crockery insert that looks nice as a serving dish
Automatic Keep Warm setting
Available in sizes from four to seven quarts
Some consumers bought this particular Crock Pot model to replace an older, single-knob version that was too small to accommodate large cuts of meat, whole chickens, and full rib racks. These consumers found the newer Crock Pot model to be much improved, especially in the areas of heating ability and cleaning ease.
Some consumers have registered complaints that did not bear out in our kitchen testing. The primary concerns were that the Crock Pot's housing becomes too hot to touch and that the Low setting produces a rolling boil in the crock.
In the BestReviews test kitchen, we found the exterior housing to be warm but not uncomfortably so, and the barely active "simmer" on Low at the six-hour mark was exactly what we hoped to see.
Another common consumer complaint targets the quality of the crock insert and its likeliness to crack or chip. We experienced no such issues during testing.
On balance, this six-quart model from the beloved Crock Pot brand produces good results for a moderate investment of $47. The features, though not plentiful, target the functions most users want. Sturdy construction and everyday practicality make it a good choice for the money.
Slow cookers are made for cheaper, fattier cuts of meat. To take advantage of your cooker's low and slow cooking power, avoid cuts of meat that are too lean.