Shopping Guide for Pressure Washers
You could buy a perfectly good budget pressure washer for around a hundred dollars. On the other hand, a professional model could cost you well in excess of a thousand dollars.
In this review, we rate a collection of top pressure washers that would suit the vast majority of homeowners. They are designed to clean your car, deck, brickwork, sidings, and more.
You'll find both electric and gas-powered machines with a variety of useful features in our ratings. To make it to our top three, each contender demonstrated high overall quality and versatility.
Considerations
Cleaning Power
A pressure washer's ability to clean effectively comes largely down to the volume of liquid it is capable of delivering (measured in gallons per minute, or gpm) and the output pressure generated (measured in pounds per square inch, or psi). Insufficient volume gives you a spray that's too fine. Inadequate pressure leaves you with little more than an expensive garden hose.
User Comfort
It's not just about how easy it is to control the cleaning action; each pressure washer is also rated for weight, portability, and other factors that impact how convenient it is to use.
Attachments & Features
Most top pressure washers have additional attachments. Some include them in the price, and some offer them as optional extras. In this section, we also look at safety features and other functions that make the machine easier to live with and/or better at its job.
Price
We've managed to put together a broad choice of high-quality pressure washers while still keeping a watchful eye on your budget. While more powerful gas-powered models do require a larger investment, there isn't as big of a difference between some machines as you might expect.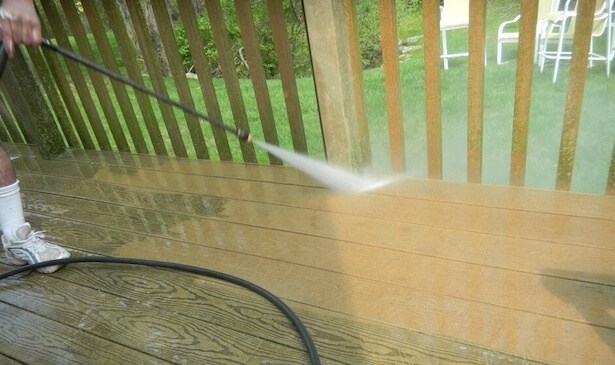 Products we considered
Sun Joe SPX3000
Our second finalist, the Sun Joe SPX3000 Electric Pressure Washer, has more impressive figures of 2030 psi and 1.76 GPM. Like the former, this would still be classified as a light-duty machine but, once again, that's not a criticism. Though there are more powerful models in our shortlist, the Sun Joe still has the capacity to deal with the cleaning tasks most owners will ask of it around the home and garden.
Karcher K 5.540 X-Series
No review of pressure washers would be complete without a Karcher, one of the leading names in the industry worldwide. In particular, we have chosen the Karcher K 5.540. At 2,000 psi and 1.4 gpm, its raw figures are similar to those of the Campbell Hausfeld — although Karcher claims that up to 50% extra pressure can be gained depending on the accessory used.
Simpson MSH3125-S MegaShot
Finally we have the Simpson MSH3125-S MegaShot Gas Pressure Washer. Like the Generac, it moves liquid at 2.5 gpm, but pressure is higher at 3,100 psi. What's more, Simpson's PowerBoost technology offers even greater at-the-nozzle pressures. No accurate figures are available, but anything over 3,000 psi is considered heavy-duty — which tells you all you need to know.
User Comfort
Sun Joe SPX3000
At 31 pounds, the wheeled Sun Joe SPX3000 is no heavyweight. Cable length, often a drawback on electrical machines, is a useful 35 feet. This is a popular all-rounder, and a lot of thought has gone into both the location of the dials and buttons and their size. Most of the functions can be operated while wearing gloves — a definite advantage.
Karcher K 5.540 X-Series
The Karcher, at 31 pounds, might require a little more effort to move around, but the quality of its construction, materials, and ergonomics is apparent. It's a beautifully designed pressure washer and the only one we evaluated that has an integral hose reel — something so convenient, you might wonder why all machines don't have one.
Simpson MSH3125-S MegaShot
The Simpson MSH3125-S MegaShot is a big, impressive machine — all 65 pounds of it. Big controls, big wheels, big welded frame, big Honda motor, etc. This robust machine is no featherweight, and moving it around isn't a finger-tip operation. However, its balance and maneuverability are adequate.
Attachments & Features
Sun Joe SPX3000
The Sun Joe SPX3000 has a similar auto-stop system to the Campbell Hausfeld. It also has 20 feet of high-pressure hose, this time with a spray wand that can be extended 34 inches. That's useful for extra reach, because you should never spray from a ladder. There are five nozzles, plus the notable benefit of not one but two detergent tanks. We did find one common criticism with this machine: some of the unit's plastic fittings are prone to leakage. However, this is relatively easy (and not very costly) to fix by swapping out the existing parts for brass versions.
Karcher K 5.540 X-Series
We've already mentioned the Karcher's integral reel in the previous section, but we can't stress enough how useful it is. Other notable features are the 25 feet of high-pressure hose, the expected trigger safety lock, a detergent tank, a spray gun, and two different wands. (The "Dirtblaster" wand delivers a pressure boost of up to 50%.) The induction motor is also noteworthy; it's more durable and much quieter than the brush motors often found in cheaper machines.
Simpson MSH3125-S MegaShot
If the Simpson MSH3125-S MegaShot has one outstanding feature, it's the 190cc Honda motor. Honda has an extraordinary reputation for the quality of the engines they supply to manufacturers of home and garden equipment.
The rest of the machine is of a similarly high standard. The high-pressure hose is kink- and scuff-resistant for longer life. The wand is steel, with a choice of five quick-detach nozzles. Detergent supply is downstream of the pump, meaning a wider choice of fluids is available. (If it's upstream, your choice is restricted because some detergents can damage pump mechanisms). The gun has the usual safety lock and the pump is, once again, the axial cam type. Numerous attachments are available —a huge advantage if you want to maximize the utility of your machine.
Price
Simpson MSH3125-S MegaShot
The popular Sun Joe SPX3000 costs around $129, and few owners have anything but good things to say about it. They rate it highly for general quality, ease of use, and its ability to tackle anything from lightly soiled vinyl siding to mildewed concrete. The fittings receive occasional criticism, but as with the Campbell Hausfeld, this problem is easily remedied.
Power washers eject water at very high pressures which can cause injury if they hit anybody directly; so do not point the water jet, or even the nozzle, towards someone. The spray from a power washer can also carry debris at high speed, so it is advisable to wear protective eye gear, closed-toe shoes, and water resistant clothing when using these machines.
Karcher K 5.540 X-Series
Karcher is a premium brand, so it's no surprise that the Karcher is a more expensive machine. Having said that, its current price of around $293 is a considerably good deal. We note that you're not just buying reputation if you choose this machine. You're also buying superior build quality and the extra thought that has gone into the design and functionality of every inch of this pressure washer.
Simpson MSH3125-S MegaShot
The Simpson MSH3125-S MegaShot is a contractor-standard machine that sells for a homeowner-friendly price. OK, $379 may not be cheap, but this is a serious piece of equipment by any standards. The Honda engine is a delight. The construction is robust, and the features and functions are designed to strip all kinds of dirt and grime from all kinds of surfaces.
Best of the Best
Simpson MSH3125-S MegaShot
With pressure washers, it seems that you get what you pay for. Bigger is better.
The winner is the Simpson MSH3125-S MegaShot. The Simpson is no lightweight, but it's relatively easy to move around, and the extra bulk is a small price to pay for the power. And it's only large by comparison. This is not some huge, unwieldy monster; it's actually quite well-balanced and ergonomic. It's packed with features that are useful in real-world situations and, above all, it has tremendous cleaning capabilities. You can use it for anything from giving your patio furniture a quick once-over to scrubbing old engine oil off your garage floor.
All in all, the Simpson ranks at the top in every important aspect that we considered, and it is the clear winner as the best pressure washer on the market.
You can use the Simpson MegaShot for anything from giving your patio furniture a quick once-over to scrubbing old engine oil off your garage floor.
Best Bang for Your Buck
Sun Joe SPX3000
When it came to choosing the best bargain-priced pressure washer on the market, our decision wasn't quite so easy. The Simpson MegaShot wins the power stakes by no contest, but is it worth almost four times what you would expect to pay for the Campbell Hausfeld? For some users, clearly not.
The majority of pressure washer owners don't spend the weekend cleaning up after motor sport events, renovating steam trains, or scouring decades of mildew, grime and graffiti off old buildings. They wash the car, spruce up the deck, or give the lawn mower a quick cleaning. They want the simplicity and speed of a plug-and-go electric pressure washer.
The Karcher is tempting. It's a great machine, but it's the same price as the more powerful Generac, and this category is all about "bang for buck."
So our choice for the best value pressure washer is the Sun Joe SPX3000. It's one of the lightest machines on our shortlist, and it is very easy to move around. It's not overwhelmed with features, but it does what you need it to do. It has adequate cleaning power for all the "regular" jobs listed above, and that's all the majority of people will ever need it for.
To be sure, it's not perfect. It's a lightweight, budget-priced model. But it provides all the services that 99% of pressure washer owners will ever need, and unless you are that power user in the 1%, this is the right machine for you.