Air Mattresses Shopping Guide
Today's air mattresses are comfortable to sleep on and easy to set up. All the products in our hands-on tests have built-in inflation pumps, a very handy feature. They're easy to fold up and put away, too, and they all fit easily into their included stuff sacks. Leaks are not generally a problem with today's products.
We tested queen-sized mattresses for consistency's sake, but all are available in other sizes.
For this comparison, we looked at the most popular queen-sized air mattresses for home use that are available on Amazon.
In addition to the products in our top five, we also considered three other products, which did not make the final cut:
SimplySleeper SS-89Q Premium Ultra Tough Raised Inflatable Mattress, Beige, Queen - We found the slick top surface let sheets slide around and rustle. Not recommended.
Coleman Premium Double High SupportRest Airbed w/Built in Pump - From a notable camping supply company comes this air bed, which we determine is still better for camping than home use. It had no built-in storage for the cord, a manual air dump valve, and a loud, high-pitched fan. Also, the sample we purchased leaked. Based on the other issues, we did not bother to replace it for testing.
AeroBed Premier Air Mattress with Built-In Pump - This is from a brand synonymous with air mattresses, but the product has a few dings against it — it's not popular on Amazon, it's on the expensive side, and it does not have built-in cord storage. It does appear to have a corded remote for adjusting inflation pressure, though, which is a nice feature. We did not test this model.
How We Tested
Comfort and Structure
The most important consideration when buying an air mattress is comfort. None of these products feel like a standard mattress, but some are notably more comfortable to lie on than others. Structure (how well the mattresses hold air) also plays a role.
To test comfort, we inflated each mattress to its firmest setting, put a sheet on the top, and had a panel of four people test the products "blind" (without knowing which product they were lying on). Their notes and ratings informed our results. We also read user reviews on Amazon and expert reviews from elsewhere, and reported where those results differed from ours.
Testing the mattresses for size and height variations in the BestReviews lab.
Ease of Use
Mattresses should be easy to unfold, inflate, deflate, and store. All of the mattresses in this comparison have built-in air pumps that run on electricity from wall outlets. You can also get products without pumps, or with battery-powered or 12-volt pumps, which are better for camping.
Each product in this comparison comes with a storage sack that's sufficiently large. Stowing the folded mattresses in their bags was easy.
Air Holding
We tested each product for its ability to hold air by weighing each down with 240 pounds of concrete mix (3 80-pound sacks) as a simulation of people lying on top. We did this for 6 hours per mattress in a temperature-controlled room, and measured the distance from the top of the sack to the ceiling at the beginning and end of the test.
Our process for testing the air holding capacity of each mattress in consideration used 240 pounds of cement on each inflated bed, and its measurement from the ceiling to test how much air escaped over time due to the weight.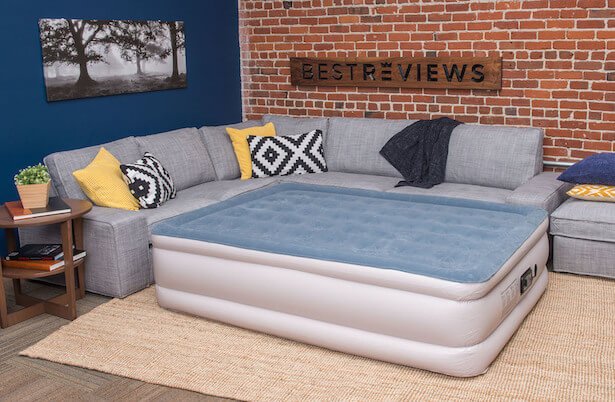 Price and Other Things to Consider
We evaluated each product's price-to-value proposition, given their other measurable factors.
We tested queen-sized air mattresses designed for in-home use. For this roundup, we only chose products with internal, AC-powered pumps, which makes them simpler to store: you don't have to go searching for a pump, or hassle with plugging into air portals, or fuss around with tricky valves. We think buying an air mattress with a built-in pump is the best way to go for home use.
Mattresses designed for camping (if you haven't camped with an air mattress, you're missing out) don't have AC-powered, built-in pumps. They might have battery-powered pumps, or none at all: you have to hook up a separate pump, one powered by your car's cigarette lighter plug, batteries, or your own muscle (a foot pump). Camping mattresses are sometimes also made of lighter materials so they're easier to transport.
Most mattresses are also available in other typical bed sizes. We standardized on queen beds for this comparison.
Products in Depth
Insta-Bed Raised Never Flat
This mattress was tied with the SoundAsleep in comfort by our testers, and provides stable air coil columns with horizontal and vertical reinforcements. Like all the other products in our top 5 list here, the flocked top surface adds a little warmth to the mattress and grabs onto sheets so they don't slide around.
Unique to this product is the Never Flat system, a secondary pump that can come on during the night if the bed starts to droop due to a slow leak, or if cooler night air causes the mattress to contract. Never Flat is supposed to keep the bed sufficiently inflated. The Never Flat fan is separate from the main inflation fan and much quieter (and less powerful). When it comes on, its sound level is similar to a refrigerator humming in the next room, which some people may find disruptive. But considering that the pump is literally inches from your ear, it's impressively quiet. Many people will never notice it.
Never Flat comes on when internal air pressure in the bed drops. However, the weight of a person on the bed can keep the pressure on the sensor high even when the volume of air goes down, so Never Flat won't necessarily keep a bed totally topped up overnight. But if the bed does start to deflate significantly, the feature will keep the bed comfortably pumped up.
During our testing, our theory on the efficacy of the Never Flat system was borne out. Both the Serta and the Insta-Bed lost about half an inch of loft during our 6-hour controlled tests with bags of concrete standing in for people. As the manufacturers of airbeds say, some settling and expanding of new beds is to be expected, and as we said above, the Never Flat system doesn't kick in as long as the pressure in a bed stays constant, which we believe it did under our 240 pounds of unmoving concrete sacks. We find the half-inch of sag acceptable.
A side benefit of Never Flat is the pressure-sensitive main pump switch. To inflate these beds, you turn one dial to the desired firmness, turn a switch to "inflate," and walk away. The bed inflates (or deflates, as you wish), and the switch pops to "off," shutting off the pump automatically when done and enabling the Never Flat system. Only the Insta-Bed has this feature. The other beds' pumps have to be turned off manually.
When we checked last, the Insta-Bed was $121.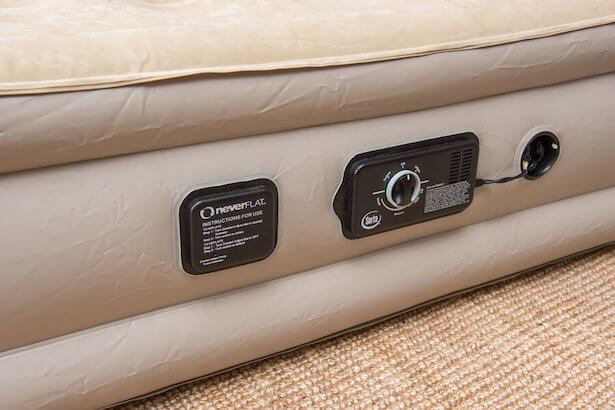 Intex Raised Downy Airbed with Built-in Electric Pump
Intex says its Raised Downy Airbed is designed with comfort and stability in mind. The bottom chamber is said to provide the same support as a traditional box spring, while the flocked upper chamber offers comfort coils that feel a lot like traditional mattress springs. This low-priced Intex mattress sits slightly higher than the other products in this test, at 20". It's second only to the other Intex model, which was 22" high.
Note that the full product name of this model on Amazon is the 'Intex Raised Downy Airbed with Built-in Electric Pump, Queen, Bed Height 22"," but we measured this product as only 20" high. The other Intex in our test measured the full 22" off the ground.
We found the mattress acceptably comfortable. It was reasonably flat to lie on, and its ridges and textures run the long way down the mattress, not across it as some others, so it feels more flat. As with the other products here, flocking on the top of the mattress helps sheets grip, and the fact that the mattress is over-deep is not a problem.
Like the other products in this comparison, the mattress was easy to set up. The fan seemed quiet, although we did not test sound levels. The bed was among the fastest to inflate, at two and a half minutes in two separate tests.
In our six-hour controlled concrete load test, this low-priced Intex lost a quarter inch of air, which is good for a new mattress. However, on Amazon, this model had the lowest score and the most negative reviews of all the products in our test, mostly due to reports of limited durability over time.
At only $42 (when we checked prices), the Intex Raised Downy Airbed is a serious bargain. It may not last as long as the others or be quite as comfortable and convenient as the Insta-Bed or Serta, but if you only need a bed for a quick emergency guest and don't plan on using it a lot, it's a very good purchase.
This mattress has the most negative reviews on Amazon, but only if you compare it to the other four air mattresses we tested. Overall, this product is still among the top five air mattresses available in the market today, and makes for a great buy for its price.
SoundAsleep Dream Series Air Mattress
Some SoundAsleep owners report that this air mattress is actually more comfortable than their regular bed, attributable to its 40 internal air coils that keep the mattress firm and free from sagging and buckling. Our testers found the bed comfortable, too. When tested side-by-side with the Insta-Bed (our other top pick), testers did not consistently pick one over the other. While the Insta-Bed Raised Air Mattress has the Never Flat Pump system, the SoundAsleep does not, otherwise the mattress portions of the beds appear to be constructed the same same way. The SoundAsleep was the slowest bed to inflate (by a small margin), however.
Rated extremely highly by Amazon buyers, the SoundAsleep is lauded not just for its comfort but its durability.
The bed has the same dimensions as the Insta-Bed and Serta, and similar flocking on the top for sheet grip. The blue color is also more attractive than the brown of the Insta-Bed. If you use dark or thick sheets, this is moot, but the shade of the mattress top does show through if you're using thin, white sheets.
As with the other beds without Never Flat, the SoundAsleep's built-in pump must be turned off manually once the bed is inflated. You can tell when it's time to turn it off by listening to the pitch of the pump motor change.
The SoundAsleep lost a half-inch of air in our controlled 6-hour concrete sack load test. We consider this acceptable for a new mattress, as they all are supposed to stretch out a little when new.
The SoundAsleep Dream Series Air Mattress packs away very neatly into a bag that can easily be carried anywhere.
Of special note — and the reason the SoundAsleep is our top pick in this comparison — is that the percentage of people who review this bed who complain about leaks or manufacturing defects is lower than for any other bed tested. There is nothing worse when sleeping on a giant airbag than having that bag not be airtight.
Based on buyer comments, SoundAsleeps seem to fail far less frequently than other products. That factor weighs significantly in our selection for the best product in this category.
Currently, the SoundAsleep is about $119, in line with other top-quality air mattresses.
Best of the Best
Our top pick for air mattresses, based on hands-on tests in February 2016 combined with over 8,000 user reviews, is the $119 SoundAsleep Dream Series Air Mattress with ComfortCoil Technology & Internal High Capacity Pump. It's supremely comfortable for an air mattress, easy to set up and take down (as are all the beds in this comparison), and boasts the best reports for durability of all the products tested. Comfort and quality: It's a combination worth buying.
A strong second bet is the Insta-Bed Raised Air Mattress with Never Flat Pump. Also very comfortable, these beds have a more convenient pump system and the Never Flat feature — a quiet, secondary pump that keeps the beds inflated should they start to droop overnight. They're both excellent products, and some people might find the Never Flat enough of a benefit that they choose one of these beds instead.
Best Bang for your Buck
At $42, you can get the very solid Intex Raised Downy Airbed with Built-in Electric Pump, and your first guests at least will be happy. We had no issues at all with this bargain air mattress. It survived all our tests. But buyers do raise issues of long-term durability.
You might also check out the still-bargain-priced Intex Comfort Plush Elevated Dura-Beam Airbed. It was $59 when we checked prices. Its higher-than-standard top surface makes it easier to get into and out of for people with limited mobility, and it's comfortable enough. It might not be as durable as other models, but it's another good product for very occasional use.